BY Alan Pears, RMIT University
It made headlines around the world when the much-hyped Barbie movie contributed to a world shortage of fluorescent pink paint.
But that's just the tip of the iceberg. When movies or TV shows become cultural phenomena, toymakers jump on board. And that comes with a surprisingly large amount of plastic waste. Think of the fad for Baby Yoda dolls after the first season of The Mandalorian in 2020. When the Barbie movie comes out this week, it's bound to trigger a wave of doll purchases over and above the 60 million Barbies already sold annually.
Toys are the most plastic-intensive consumer goods in the world, according to a 2014 United Nations Environment Program report.
Worse, very few toys are recycled. That's often because they can't be – they're made of a complex mixture of plastics, metals and electronics. When children get bored, these toys often end up in landfill.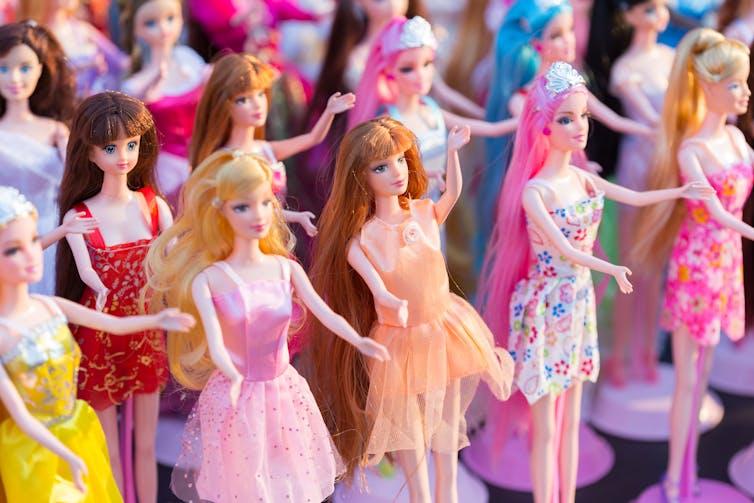 The toll of the dolls
Consider a single Barbie doll. What did it cost to create?
Before the US-China trade war, half the world's toys were manufactured in Dongguan, a city in China. That included one in three Barbie dolls.
American researchers last year quantified what each doll costs the climate. Every 182 gram doll caused about 660 grams of carbon emissions, including plastic production, manufacture and transport.
The researchers analysed seven other types of toys, including Lego sets and Jenga. By my calculations, emissions on average across all these types of toys are about 4.5 kilograms per kilogram of toys.
Scaled up, this is considerable. In the US, it's estimated emissions from the plastics industry will overtake those from coal within seven years.
So the question is, how can we cut our emissions to zero as fast as possible to ensure we and our children have a liveable climate – without putting a blanket ban on plastic toys? After all, toys and entertainment add happiness to our lives.
The role for toymakers and governments
To date, there has been little focus on making the toy industry more sustainable. But it shouldn't escape our notice.
Toy manufacturers can – and should – use low carbon materials and supply chains, and focus on making toys easily dissembled. Toys should be as light as possible, to minimise transport emissions. And battery-powered toys should be avoided wherever possible, as they can double a toy's climate impact and turn a plastic waste problem into an electronic waste problem. To their credit, some toymakers have cut back on plastic in their packaging, given packaging immediately becomes waste.
In a welcome move, the maker of Barbie, Mattel, launched their own recycling scheme in 2021, allowing buyers to send back old toys to be turned into new ones. This scheme isn't available in Australia, however.
Toymakers can help at the design stage by choosing the materials they use carefully. Governments can encourage this by penalising cheap, high-environmental-impact plastics. We can look to the European and American bans on BPA-containing plastics in infant milk bottles as an example of what's possible. Governments can set up effective recovery and recycling systems able to handle toys.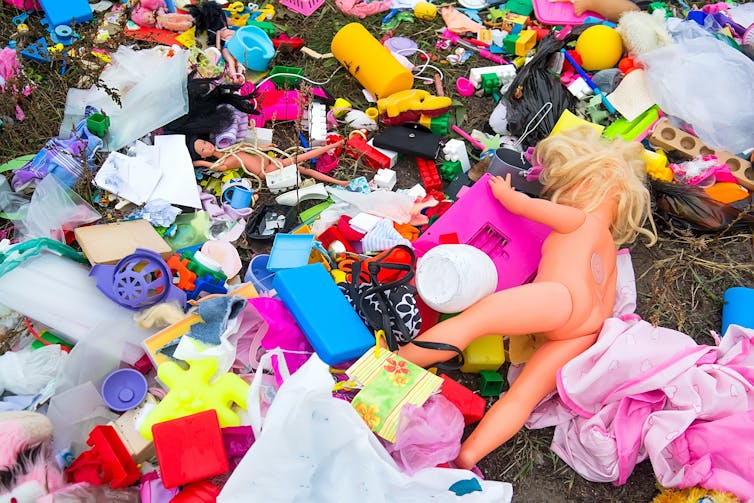 Some plastic-dependent brands such as Lego are unilaterally moving away from petrochemical-based plastic in favour of sugarcane-based plastic. But it's not a short-term project.
While Barbie dolls had an uptick in popularity during the pandemic years – and will no doubt have another surge alongside the movie – longer-term trends are dampening plastic toy impact. While movies in the 1980s were often "toyetic" – conceived with an eye to toy sales – the trend is on the wane.
Gaming, for instance, has moved to centre stage for many older children. While gaming produces e-waste streams, it is also a likely cause of the longer-term fall in popularity of plastic toys.
What should we do?
If you're a parent or an indulgent grandparent, it's hard to avoid buying toys entirely – especially if your child gets obsessed with Barbie dolls after seeing the movie. So what should you do?
For starters, we can avoid cheap and nasty toys which are likely to break very quickly. Instead, look for toys which will last – and which will lend themselves to longer-term creative play. Think of the enduring popularity of brick-based toys or magnetic tiles. Look for secondhand toys. And look for toys made of simpler materials able to be recycled at the end of their lives – or even for the Barbie dolls made out of ocean plastics.


Alan Pears, Senior Industry Fellow, RMIT University
This article is republished from The Conversation under a Creative Commons license. Read the original article. Image via Shutterstock